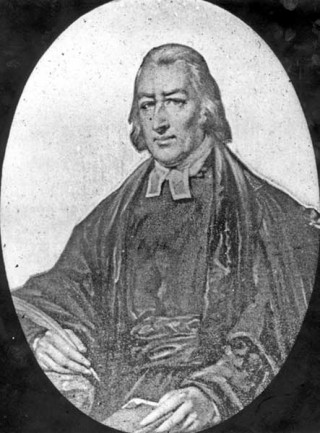 Rev. James Wilkinson, Vicar of Sheffield, of Broom Hall, portrait. (PS S08230)
James Wilkinson was the Vicar of Sheffield from 1754 to his death in 1805. Historian David Bentley describes him as a ''tall and stately man'', a magistrate who inherited the estate of Broom Hall from his mother's side of the family, the esteemed Jessops.
John Stevenson writes that Wilkinson was described on his death, aged 74, as ''distinguished by unaffected piety, inflexible integrity, and unwearied zeal in the service of the public.
''A bachelor, he was notorious both for his blunt language and his prowess as a boxer – in his earlier days he was on more than one occasion alleged to have stripped himself of his vestments to take up a challenge, from which he was accustomed to emerge victorious.
''Some of his judgments acquired a certain apocryphal notoriety, as when called on to arbitrate between a quarrelsome couple, he ordered them both to be locked up in a cell until they could agree.''
Stevenson goes on to say that Wilkinson was not consistently popular with the people of Sheffield, ''stigmatised by one local songster [Joseph Mather] as 'the old serpent' and "that black diabolical fiend"'.
Additionally, he was given the nickname of 'Old Niddlety Nod', due to a condition that caused him to shake his head.
Peter Bradley, the current Dean of Sheffield, further explains how Vicar Wilkinson was disliked amongst the masses and declares, importantly, 'I am on the side of the mob.':
'My predecessor as Vicar of Sheffield, Parson James Wilkinson (1731-1805), was also a King's Justice of the Peace.  He is said to have "administered the Law as he preached the Gospel," "with inflexible integrity".  The unfortunate consequence was that in 1791 a mob rioted outside the Parish Church in protest at the vicar's cruel justice, subsequently proceeding to Broom Hall, where they burned down the vicarage library.  Parson Wilkinson had the leader of the mob who actually lit the fire sent to the Assizes in York to be hanged.
I am on the side of the mob.  We should be suspicious of those who preach judgement easily, secure in the exercise of their own power.  While the rich praised Parson Wilkinson for his courage and zeal, the poor, in a remarkable protest song, portrayed their vicar as a harbinger of a "Black Resurrection" which would seek to overturn the mercy and justice of God.  This insight of the poor of Sheffield, that preaching God's judgement should be liberation and mercy, not fear and control, holds good now.  For them, God's justice would come when "the serpent [parson] will hang his head', ashamed to speak his cruel judgements aloud before his loving redeemer.''
''[…]In his memorial in Sheffield Cathedral, Parson James Wilkinson is shown with a hangman's noose behind his head, a silent protest at the Parson's inflexible preaching of God's judgement and administration of the King's justice''.
Dean of Sheffield on Rev. Wilkinson: http://www.franciscanarchive.org.uk/2004may-bradley.htm
Picture Sheffield images
PS S08230, Image of Rev. James Wilkinson, Vicar of Sheffield, of Broom Hall, portrait: Courtesy of Sheffield Archives and Local Studies Library